Intro | Incredibly Strange TV
UNCUT & UNTAMED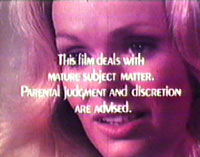 Let me take you waaaaaaaay back when.
The date - 1978. The location - Los Angeles.
This is when I first saw incredibly strange material type fare on television.
Unlike TVNZ or NZBC or whatever the hell it was called back then, NZ television audiences never experienced any cult television of any calibre.
The closest we ever got were anthology shows like The Night Gallery or recycled ABC/ CBS TV Movies of the week like Gargoyles, Bad Ronald and of course the fun kids stuff like Land of the Lost, Land of the Giants and The Time Tunnel. But there was nothing shown late at night - I mean when I was young, TV shut down at 10.30pm here.
New Zealand never screened anything like what we saw on those Saturdays back in the late 70s in LA. Blobbing in front of the TV and watching stuff like War of the Gargantuans and Creature with the Blue Hand blew my impressionable mind.
But coming back to NZ for a now converted cult movie maniac was depressing as hell. Remember this was when NZ was in a pre-vhs puritanical vice like grip from moral crusaders like Pat Barlett and a nervous nanny for a Chief Censor.
The nation of Aoteroa was vanilla central.
Sure there were some kick ass films playing at cinemas in Auckland (go The Astor, Crystal Palace) but most of the wild stuff was censored and in those days there was no way of getting into R18 movies. Not until you were at least 15. (I do remember poking my head into the St James and seeing the dude get his head blown off in DAWN OF THE DEAD and thinking I couldn't take any more.
The seeds were sewn for Incredible Strangeness from those early days in LA. So in 1985 when I worked with legendary showman Charley Gray, The Bad Taste Film Festival sprouted from this fertile amalgamation. The week long event screened films like Mondo NY, Surf Nazis Must Die, Zodiac Killer, Blood Diner and others.
It was truly the start of something strange.
A decade later after the dust settled and I had started to learn about exhibition & distribution (and how to track 16mm & 35mm prints down), the very first Incredibly Strange Film Festival began in 1994... and things were never quite the same again in NZ.
So now it is 2008 and I am lucky enough to present a series of Incredibly Strange films on Television in NZ. Good things take time I guess.
I'm psyched to say that all the films that are scheduled to play during Incredibly Strange Television are not only 100% New Zealand Television premieres, they are the real McCoy - no faux hipster crap, no wink wink 'camp' fare... just untamed bugfuck cinema.
There are no posers, no phoneys in the bunch - they are from the far reaches of a desolate area. An area that few dare to travel to. An area known as Incredibly Strange Television.
On every Saturday night you will taste a selection of films that have been very impressionable on this movie maniac. From acid freakouts to controversial shockers to the most obscure of strange films.
It'll be a real privilege to beam the works of exploitation giants like Russ Meyer, HG Lewis, Larry Buchanan, Joe D'Amato and unbelievably rare horror films from the legendary Shaw Bros studios. All coming directly into your living rooms. If I was young again I would be in freakin heaven.
I also really want to say a huge thanks to Charlotte Hill out at MGM Channel. Charlotte was converted by the strange film festival at a tender age and has been a real supporter of all things Strangeness over the years. It was she who pushed for this show and argued its merits (?) to those who say yay or nay. So thanks to her bosses who are taking a chance on a series like this and who had the wisdom to realise that it was the right decision. And as always to the guys at "V" who for some unknown reason dig what I do. So go buy a damn can now.
And of course to Team Strange who have been there since the beginning. Matt, Mike and Aaron.
If people tune in and dig what they see - then please drop Charlotte (see Staff) a line and let us know you want more. Remember this is a trial series, if enough folks watch then there might be more. Did you know you can sign up to MGM only for $5! You don't have to get the "blockbuster movie package" - you can just get the MGM Channel. This is not advertised so you must ask for it. And you didn't hear it from me.
Stay Tuned to Stay Strange
Ant TIMPSON Oct 2008